As the first quarter of 2015 comes to an end, do you feel like you need to ramp things up? In your personal life? Business or career? Is life moving too fast, and you wonder if you're doing enough to reach those goals you promised yourself you will accomplish this time, at last?
If so, then this post is for you.
Recently, I joined a group called The Awesomization Nation. It's a support group, accountability group, and mastermind group all rolled into one.
But it's the first of its kind.
The Awesomization Nation is all about becoming the Awesome version of… YOU.
The problem with trying to improve ourselves is, we often try to be somebody else. Someone smarter. Who works harder. Who lives fearlessly. Whatever we think is the secret sauce to success.
Well, trying to be somebody else is not just hard. It's darn impossible!
How about just being yourself… but your awesome self? What kind of person would that be? Would Awesome You be happier? Healthier? More generous? More present? Less afraid?
I was attracted to The Awesomization Nation, because it doesn't force me into a specific mold. And I can hope to improve any or all areas of my life. It was all up to me.
So instead of asking, "What Would Jack Bauer Do?" we ask, "What Would Awesome YOU Do?"
To give you a better idea about The Awesomization Nation, I interviewed its founder, Nicole Dean. Read on.
Q&A with Nicole Dean on The Awesomization Nation
Me: Nic, why did you create Awesomization Nation?
Nicole Dean: Hi Lexi. I created the Awesomization Nation for a few reasons. First because, as entrepreneurs, I feel we are constantly being pulled in several directions. I, personally, started to feel like a leaf drifting on the wind where I wasn't being an active participant in my own life. I was just floating along. I didn't like it and so, in January, I went into re-awesomization mode.
In two months, I lost 25 pounds and started to kick butt in my business again, and put some extra attention into my marriage. It paid off, but it also made me realize that I see the same thing happening to my friends and I wanted to do a big awakening. A movement, if you will, to gather positive-thinking entrepreneurs who wanted better together into one place where we can build momentum, inspire each other, and DO awesome.
Because the thing that I found when I was at a very low place in January was that DOING awesome made me FEEL awesome moreso than anything else I'd ever tried.
Me: What can I expect to get out of joining?
Nicole Dean: The Awesomization Nation consists of two parts. I'll be providing ideas for tiny awesome things you can do every day in your business, your life, and to make the world a better place.
PLUS, we've got a hopping Facebook group of people where I want you to share what you did every day that was awesome. Awesome is contagious, so spread yours all over the Facebook group. Feel free to post pictures and even links to show off what you're working on or reading. It's all good.
Me: What if other members are over-achievers and my awesome deeds pale in comparison to theirs?
Nicole Dean: People are busy and have lives. These awesome acts can be as simple as ordering water instead of Diet Coke if that's what you want to do to help your life be better. Cleaning off your desk so you can think better or writing a blog post and sharing it. Being more patient with your kids. Or giving some old books to charity.
Awesome people don't judge. We cheer each other on!
Me: Define "awesomization."
Nicole Dean: Awesomization is the act of DOING awesome things to FEEL awesome, GROW your awesome business, and make the world an awesome place.
Thanks very much, Nic!
A Peak Into Our Awesome Facebook Group
The Awesomization Nation officially begins on April 1st. But the Facebook group is already abuzz with activity. Here's what I posted today: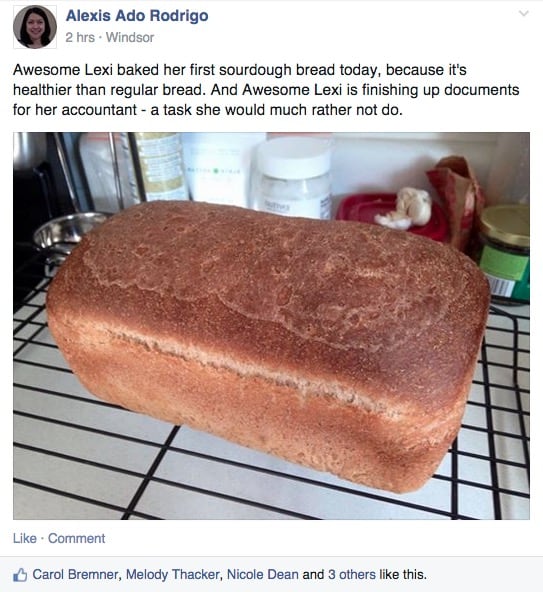 And what I shared yesterday:

As you can see, being awesome can be about anything or everything that's important to you.
The bottom line is, it's about DOING. Not planning, not intending, not wishing, but actually getting up and doing something.
Do – Be – Do – Be – Do awesome!
How about it? Would you like to join us so we can support you in becoming Awesome You? Click here to check it out (warning: affiliate link).