Last week, I made a quick trip to Toronto to meet up with a few members of my group, Solo Masterminds (formerly known as Mom Masterminds).
We were smaller than usual. Kelly McCausey, who leads Solo Masterminds, and the other members from Michigan couldn't make it this time. I was a bit apprehensive about this, wondering if my trip would be a waste. But the four of us who did make it (Sharon McMillan, who was also our host, Angela Wills, Imie Belanger and me) did not let our size deter us from having a productive and helpful meeting.
In fact, the group's small-ness made the meeting more intimate. Over dinner and afterwards, while walking our dinner off, conversations shifted from business to personal. Because, really, can you separate the two? (More on that under lessons below)
We had time to go over each of our businesses in depth and detail. Here I am showing my main sites and telling the group where I'm at, what my challenges are, and where I plan to go next: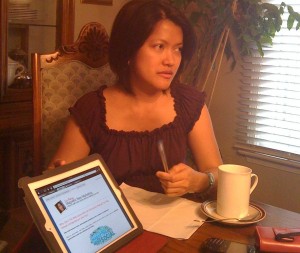 Some Lessons
Here are some of the highlights from our meetup:
All of us buy ebooks, courses and programs and then forget about them. Putting blinders on so we can focus on the essential elements of our businesses is a continuing challenge.
Email lists are our biggest business assets. We need to continue building them and nurturing our relationships with our list subscribers.
While our businesses are mostly online, offline, face-to-face interaction is still important. The meetup itself is a good example. We interact with each other almost every day through Twitter, Facebook and now Google+. Yet the impact of meeting each other in person is so much stronger than any of those "virtual encounters".
Businesses need our expertise! Many are spending too much to get crappy websites made, disseminate muddy messages and otherwise fail at using social media too promote themselves. With our knowledge and experience, we have an obligation to support other business owners, whether through our consulting services, or free and paid training programs.
We cannot reach our goals without forming our winning teams. Outsourcing is critical. All of us have had bad experiences working with freelancers, but when we do find the right people to support us, then our lives becomes so much easier.
We're in business to enhance our lives. Money isn't the top motivation. We're motivated by our desire to care for our families, enjoy a certain lifestyle, get away from the stresses and politics of the corporate world, etc. Ultimately, money is only a tool. Our ultimate goal is a state of being, rather than having. This is why we're turned off by gurus who flash their Jaguars, beach houses and private jets.
Why You Need and Want A Mastermind Group
Napoleon Hill in his book, Think and Grow Rich, defined a "master mind" as the "Coordination of knowledge and effort, in a spirit of harmony, between two or more people, for the attainment of a definite purpose."
Hill continues to say that no individual can attain great power without a Master Mind. If you have big goals, then you can't rely on your own knowledge and experience to attain them.
I agree. I definitely attribute a lot of my success to my membership in Solo Masterminds. It helped me get started as a home-based freelance writer, blogger, and online marketer.
As my business grows, I continue to look to the mentors and members of Solo Masterminds to help me navigate the ever-changing face of Internet marketing, clarify my goals, find freelancers, affiliates and joint venture partners, and identify the best paths to get to where I want to go.
It's also been helpful to share what I know with those who are just starting out.
How About You?
Do you belong to a mastermind group? What benefits have you enjoyed because of it? And how do you think your mastermind group can do better?
If you're still looking for a mastermind group, what qualities are you looking for?
Share your experiences and thoughts in the comments below.

PS: For the first time, Solo Masterminds is opening its doors to ALL solo women entrepreneurs and not just Moms. Click here to learn more about Solo Masterminds and sign up for a complimentary 7-day preview.
Photos by me (top) and Sharon McMillan.