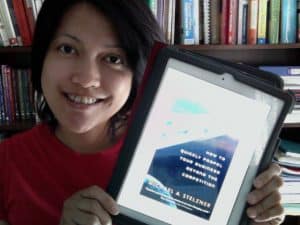 I finally finished reading Michael Stelzner's "Launch: How to Quickly Propel Your Business Beyond the Competition."
Below you'll find the rest of my chapter-by-chapter review of the book. Click here to read the first part of this review==> "First Impressions: "Launch" by Michael Stelzner"
Chapter 6: Making Content the Fuel of Your Marketing
This chapter looks at two examples of blogs that are successful, because of quality content. Michael uses these as the jump-off point to describe what makes for great content. The chapter includes a section on how to create an editorial guide (linking to SocialMediaExaminer.com's own editorial guide, with Michael's blessing for us to use it as a model for our own) and editorial calendar (I told you, you need one!).
This chapter is practical, as is the rest of the book. I particularly liked the specific examples of great content, including screen shots. This chapter got me all fired up to keep creating great content on my blogs.
Chapter 7: Creating and Using Primary Fuel
This is a detailed chapter on the importance of primary fuel (a type of content) and the six types of primary fuel every business should be putting out there: how-to articles, expert interviews, reviews, case studies, news stories, and contrarian stories.
If you've ever wondered how you could possibly keep blogging consistent for years on end, this chapter will answer that question for you. With plenty of specific examples and case studies, your mind will be buzzing with ideas by the time you finish reading this chapter.
Chapter 8: Creating and Using Nuclear Fuel
Nuclear fuel is another kind of content Michael says we should be producing. In this chapter, Michael talks about what nuclear fuel is and how it helps businesses grow significantly faster. He describes four types of nuclear fuel: research-based reports, white papers, top 10 contests, and micro events.
I'm surprised at the level of detail Michael provides, not only in this chapter, but throughout the book. He has really pulled all the stops and shared as much as he can in a reasonable number of pages. Screen shots, links and examples make it easy for the reader to conclude that, "I can do it too!" This is definitely another inspiring chapter. If it doesn't light your fire, I don't know what will.
Chapter 9: How to Employ Marketing
This is where Michael shows us how to sell without selling — what he calls "caging your marketing messages." That means promoting your products, programmes and services without actually going out and shouting, "X for sale! Buy it here!" He also details a way to sell using free content or "velocity launch." Michael shows how he used velocity launch to promote Social Media Examiner's virtual event, Facebook Success Summit.
By the time you read this final chapter, you should have a long list of ideas to implement in your business. Unfortunately, the link to "a free step-by-step tutorial on how to conduct a velocity launch" doesn't work. I'm dying with suspense because I want that tutorial! I'll contact Michael somehow and find out how I can access this promised tutorial.
Update: Michael and his staff have informed me that they're working on the velocity tutorial. It will be available soon!
There you have it, a chapter-by-chapter review of "Launch: How to Propel Your Business Beyond the Competition," by Michael Stelzner.
To summarize…
Pros:
Teaches a tried-and-true, doable way to promote your business online
Michael spills his "secrets"
Very detailed and practical
Inspiring
Whether you're an absolute beginner or intermediate content marketer, you're bound to learn something new
Cons:
May be overwhelming for some. Go slowly on implementing.
Some links don't work 🙁
Bottom Line:
"Launch" is a solid, reliable resource for any business wanting to use online marketing to grow.
Have you read "Launch"? If so, let us know your thoughts on it. Post a mini-review below.

PS: If you enjoyed this post, please spread the word. Click on the Retweet button below and the Facebook "Like" button even lower down the page. Thank you!
PPS: Don't have a copy of "Launch" yet? Get your copy from Amazon.com (<- shameless affiliate link)