In this blog post, I'm going to show you a case study which demonstrates the power of following up on your prospects.
Background:
My client decided to have a one-month promotion on his product. He would offer his product at 50% discount, because he was to stop selling it after the promo period.
Our primary means of promoting the sale was through his list. He had a very small list — about 1,000 subscribers before the promo began — with about 100 added during the promo period.
He also has a blog, but with very little traffic. We didn't hope to make a significant number of sales through it.
The Strategy:
I created a series of  promotional emails to go out to his list subscribers. We sent the first two emails one week apart, followed by a purely informational and pitch-free email. The last two emails were sent three days before the deadline and on the day of the deadline itself.
The final solo email alerted his subscribers that they only had until midnight to purchase the product, or it would not be available anymore.
My client was very hesitant to send this final notice. He was worried that he was marketing "too hard," and that his subscribers would complain or even unsubscribe.
I reassured him that he was doing his subscribers a service by doing everything he could to make sure those who were interested in the product would be able to purchase it while it was still available and at a significant discount at that.
The Results:
It's clear that the emails, including each subsequent follow-up, brought in a wave of sales, as this table shows: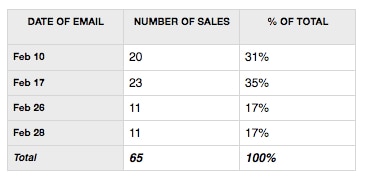 The gross amount of the sales was more than quadruple the amount my client thought he would make when we were planning the campaign.
A total of 11 sales were made after the very last email, which would have been lost had my client not listened to me. (He was very wise to allow me to give him advice.)
Were his subscribers annoyed at the nearly weekly reminders about the promo?
In fact, two subscribers, after receiving reminder emails, replied to say that they had already purchased the product (unfortunately, my client's autoresponder service didn't allow me to remove buyers from the prospects lists). I don't consider that a complaint, and they didn't unsubscribe from the list.
My client, in fact, received a letter of gratitude from a customer who bought the product on the very last day. I can't quote the letter here for privacy reasons, but the email said something like:
"Thank you for your reminders. I saw your previous emails but hadn't gotten around to reading them. Thanks to your final reminder, I was able to buy the product before the deadline."
You bet my client is now convinced that following up is crucial in a promotion!
Your Take-Away Lessons:
When planning a promo, plan how you will communicate your messages to your prospects, including the timing and message strategies.
Keep the follow-ups casual without pressuring your readers. Your aim is to make sure they don't miss a good deal — if it's something they're interested in.
If your autoresponder service makes this possible, resend the same message to the same list, but only to those who didn't open it the first time. This is NOT considered a follow-up message but a resend of a "failed" message.
Some prospects will always wait until the last minute before purchasing — even if they really want the product. Always, always remind them when the deadline is near, so they don't miss it.
Your Turn:
Have you ever had a similar promotional campaign that involved sending a series of messages to the same readers? What results did you have?
Or do you have a campaign that you think would have benefited from effective follow-up messages?
I'd love to hear about your experience.

photo credit: Mzelle Biscotte