Whenever I'm "twittering," my husband peers over my shoulder and asks, "What do you get from Twitter anyway?"
Hmmm… what DO I get from Twitter? And Facebook, for that matter?
The Facebook Advantage
Well, Facebook is pretty easy to answer. I use it mostly for personal reasons, and it's been a wonderful way to reconnect with long-lost friends.
For example, the "oldest" friend I have on Facebook is somebody I went to grade school with.
With Facebook, I'm also able to keep with touch with people from my high school, university, previous work places, and relatives… all of whom live all over the world.
This is a big deal for somebody who relocated halfway around the world to a place where virtually everybody is a stranger.
As you can see, I get a lot of personal interaction in Facebook. I don't use it at all, or barely, for business purposes.
I do have a Facebook page, but mostly for SEO.
The same isn't true for Twitter.
Terrific Twitter
I get both personal and business returns on Twitter. Not because of Twitter itself, but because of how I use it.
On Twitter, I find cool, knowledgeable people in online marketing, copywriting, freelancing… but also in natural living, parenting, and crafts.
Thanks to Twitter, I've won a Vado camera, a book, and a copywriting home study course (worth $697).
I've gotten practical advice on anything from what to do when there's no hot water coming out of the tap, to the best plugin to back up my WordPress sites.
I've also connected with A-listers like Gary Vaynerchuk, Danny Brown, Lori Morgan-Ferrero, Maritza Parra, Marie Forleo and others… on Twitter.
Twitter is how one of my biggest clients found me.
And Twitter is how I increased the traffic to two of my sites, as this shows: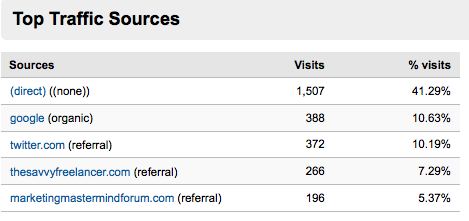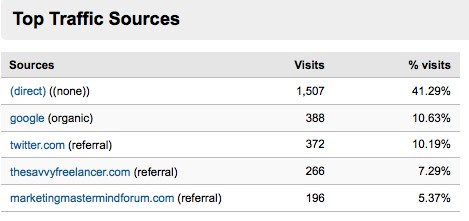 As you can see, Twitter has been terrific for me!
The question is, how do you get traffic from Twitter and Facebook — without turning into an obnoxious, self-promotional marketer? How can you promote yourself or your business without turning off your followers, friends and fans (or are they now called "likers"?)?
Social Networking Explained
If you'd like to learn how you can also grow your blog traffic through Twitter AND Facebook, then join me as I sign up to get the recording of my interview Grandma Mary, aka Andrea Vahl, a social media edutainer, author, and social media strategist.
Access the recording of this informative webinar as soon as you register below:

PS: What do YOU get from Twitter and Facebook? Please share, post a comment below.

photo credit: Franco Bouly