Buffer is one of those apps I use every single working day.
Coupled with Feedly, Buffer is why I seem to be "everywhere all the time," even when I'm asleep or on vacation.
It's an app that lets you schedule posts to different social networking accounts from a single dashboard. When you find online content you want to share in social media, you can use Buffer to put them in a queue to go out on a pre-determined schedule.
I use the free version of Buffer, which for most solo entrepreneurs, is enough. Recently, Buffer launched Buffer for Business.
Being the social media geek that I am, I drooled.
Buffer for Business is feature-rich and robust. It can really make a difference in your social media marketing. Depending on your needs, of course.
Read on to find out if it's a good fit for you.
3 Best Features of Buffer for Business
1. More social media accounts
With my free Buffer, I can link up to one account for Twitter, Google+, LinkedIn, Facebook, and App.net.
But with Buffer for Business, you can have up to 150 social media accounts — including LinkedIn groups.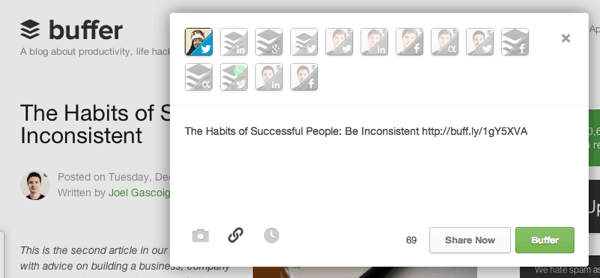 This would be great for social media managers and agencies who manage multiple accounts for several clients.
Or for people like me who actually have more than one account for various social networks (what can I say? I have multiple social media personality disorder).
No more maintaining separate Buffer accounts for each of your online personas, niches, or clients. Manage everything from a single dashboard.
2. Better collaboration
With a Business plan, you can add as many as 25 team members to your Buffer account. And you can give them either a manager or contributor role. Managers can edit and delete updates. Contributors can only add to the queue, and these are published only after a manager approves them.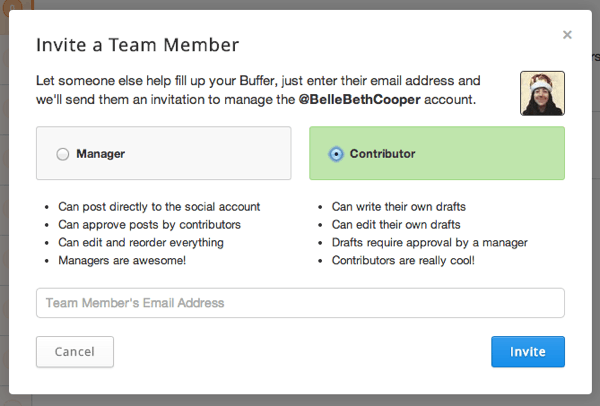 Know what's even better? You can assign team members to specific accounts. This means, for Client A's accounts, you can make Allan the manager and, Clara and Andrew contributors. For Client B's accounts, Sarah is the manager, with Diane as contributor. All this in one single Buffer for Business account. Pretty cool, eh?
3. Robust analytics
Finally, the third reason to love Buffer for Business is the more robust analytics. Buffer for Business can generate charts showing retweets, favorites, mentions, clicks and posts per day over a time period. You can compare two metrics of your choice on each chart.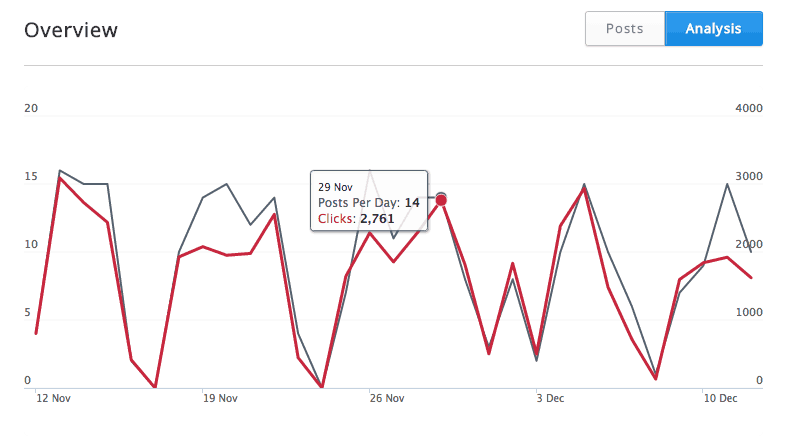 Aside from the chart, Buffer for Business also shows you a table of posts, which you can sort based on different metrics. For example, you can sort by retweets to see your updates from highest to lowest number of retweets.
And you can export all this data into csv files, which you can turn into charts and tables for your own presentations and reports. (Hint: Use them to show what a great job you've been doing in social media)
So should you stop reading this post and sign up for your Buffer for Business account right now?
Not so fast! Do keep reading to see if there are reasons for you to pass up on Buffer for Business.
3 Worst Features of Buffer for Business
1. Price
Judging from the comments on Buffer's own blog, it seems the pricing of its business accounts does not sit too well with some social marketers. There are 3 levels Buffer for Business:
small – $50/month
medium – $100/month
large – $250/month
Frankly, I find this complaint a bit mystifying, especially coming from social media consultants or agencies who provide social media marketing services to clients. One client alone could easily pay for the price of a small business plan. If not, then you're not charging enough, my friend.
Of course, there are Buffer users who want only some of the additional features of a business account. For example, some people who are already on the $5/month plan want the added analytics but are unwilling to shell out an additional $45 monthly for it.
2. Social media account overload
The ability to add so many social media accounts and team members can make for an unwieldy Buffer dashboard. I imagine looking at 150 accounts all at once would be downright overwhelming. As far as I can tell, there's no way to organize these accounts, for example, by grouping them by client.
Disclosure: I was unable to experiment with this in my free trial of Buffer for Business, simply because I don't have 25 social media accounts. So @Buffer, please correct me if I'm wrong about this.
3. No time-based analytics
Buffer analytics show post performance per day, but not in smaller time increments. The charts won't show you if you get more engagement in the morning than at night, for example. If you want to find out what's the best time to share content with specific audiences, the raw data would be there, but you would have to manually encode and analyze the data yourself in a spreadsheet.
Bottom Line: Love It Or Leave It?
So what do you think of Buffer for Business? Are you lovin' it or leavin' it? Why?
*All screenshots on this post are from the Buffer blog