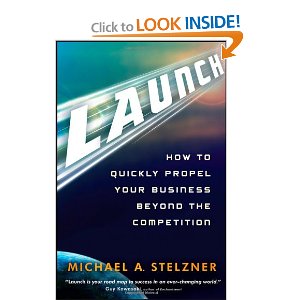 UPDATE: The winner of our giveaway is Marya Miller of SalesCopywriting.org. Congratulations, Marya! Thank you to everybody who joined!
Last week, I decided to try my iPad 2's e-reader capability. I ordered a copy of "Launch: How to Quickly Propel Your Business Beyond the Competition." I got the Kindle format, because it was much cheaper than the iBook — which is even more expensive than the physical book.
I'm now in Chapter 5 out of 9 chapters, and in this post, I'm going to give you my first impressions on the book. If this post piques your interest, read on to find out how you can get a free copy of the book.
The Big Picture
"Launch" promotes a "new" kind of marketing, one that's focused on giving to others. Sound familiar? That's because this is the exact same thing I've been talking about since I coined the term, "Magnetic New Marketing."
Michael compares business to a rocket ship. Content fuels it, and other people propel it. When your rocket reaches outer space, that means you've left your competition behind.
So you can imagine that, in the first few chapters, I didn't really feel like I learned anything new. It was good, though, to validate how I've always felt about marketing — particularly marketing online. Everything I've learned in my last three years of Internet marketing, and synthesized into Magnetic New Marketing, is correct!
My heart does start pounding, though, when I read about specific cases of when this new type of online marketing is used to great success. Particularly interesting was Mike's telling of how he built Social Media Examiner and made it the second biggest blog about social media in the span of a year.
I saw this happening before my own eyes, because, as a copywriter, I'd been following Mike online. Of course, I always thought he was a big name. I never realized he had to do some hustling to get social media experts to collaborate with him.
But he did and the details are all in "Launch."
Chapter-by-Chapter Account
Chapter 1: Rockets Don't Fly Themselves
Mike (is that even Michael Stelzner's nickname? Oh well, I'll be calling him Mike from this point on) paints the broad strokes of his approach, which he calls the Elevation Principle. According to this principle, you achieve great results by providing great content and focusing on others — and removing "obvious marketing messages."
Nothing new for me in this chapter, but it was good to read Mike's specific examples of the Elevation Principle at work.
Chapter 2: Starting Your Mission Plan
Mike provides practical guidance for setting your vision, goals and plan of action. He introduces the concepts of markers, speed, and motion, and how these influence the growth of a business. He also continues the rocket ship analogy with concepts like "gravity drag," and "escape velocity."
I found this chapter to be very practical and quite inspiring… although personally, I don't like getting into too much detail about my business. If we talk forest vs trees, I'm more of a forest type of girl. Also, I find the rocket ship analogy, shall we say, overly testosterone-y. It would totally resonate with my husband but simply whooshes over my head. Nevertheless, I vow to set aside an entire day to go through the process in this chapter.
Chapter 3: Finding Inspiration by Looking Outward
In this chapter, Mike makes the compelling argument that we will only grow if we have an outward-focused mentality. We need to reach out to other people, other industries, maybe even other cultures to find fresh ideas and ways of doing things. He says we need to find role models and inspirational content, and gives several ways to do this easily.
I'm loving the practicality of this chapter! Now I know, when I'm surfing the 'net or stalking interesting people online, I'm not wasting my time. I'm using my Discovery System. And now I know how to do so more effectively and efficiently 😀
Chapter 4: Leveraging the Power of Other People
Speaking of looking outward, the Elevation Principle says it's "other people" who propel the rocket ship. And the key to activating them is by giving away stuff, without expecting anything in return. Here we learn the different types of people we should be reaching out to, how to choose them, and how to discover their needs — so we can help fulfill them.
Again, not a lot of new ideas here, but plenty of new action points. I'm particularly intrigued by Mike's tip for finding up and coming bestselling authors and other thought leaders. This comes in handy for my webinars, where I'm constantly in need of exciting experts to interview.
Chapter 5: Actively Engaging Other People
This chapter draws on Cialdini's principle of reciprocation (which you'd be very familiar with if you took my Magnetic New Marketing course). However, Mike warns against abusing this principle and calls, instead, for giving "genuine gifts" without expecting anything in return.
I'm enjoying learning about the three concentric circles of people we give gifts to, whom we should focus on (it's not who you think, I guarantee it!), and how to give gifts even to people who seem to have it all — or at least have more than you do.
I'm still finishing this chapter, and will publish the rest of my review in a future post. Meantime, I'd like to invite you to join my…
Launch Giveaway!
I'm so positive the Elevation Principle can help any business to grow, that I'd like to give one copy of it away.
All you have to do is post a comment below and tell me what your biggest, toughest business challenge is. What's keeping you from moving faster towards your business goals?
This Friday, June 24, 2011, 2 pm EST, I'm going to randomly pick one winner.
I'm giving away either a physical copy or Kindle format of the book. Therefore, to qualify for this giveaway, you must be either a resident of the United States or Canada, or have a Kindle account. All clear?
Go ahead, post your comment, and check back after 2 pm this Friday to see if you've won.

PS: FYI, I purchased my copy of Launch; I didn't get a review copy. However, I am an affiliate of Amazon.com, so if you buy your copy through this link, I'll get a (very small) commission.