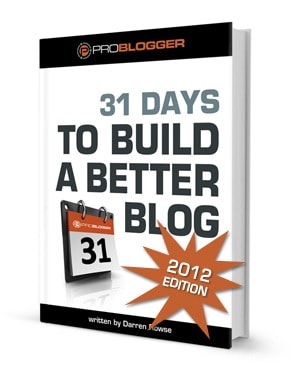 Whenever a client or friend starts blogging, I always recommend 31 Days to Build A Better Blog, an ebook by Darren Rowse of Problogger (the blog and book) fame.
Not only does Darren Rowse know what he's talking about (he is, after all, the owner of one of the most successful blogs out there), but the ebook is priced affordably.
Watch my video review of the 2012 revised edition of the ebook:

The Good
The ebook is still full of good advice for creating a blog that attracts traffic, generates interaction, and helps you sell more of your (or affiliate) stuff.
It's visually appealing.
Lessons are in easy-to-digest chunks.
You can go at your own pace. Do it in 31 days or 31 weeks, your call.
The Bad
Some pages have dark backgrounds, which means printing this 139-page ebook would use up my toner cartridge.
It's not magic beans. You actually have to read through it and implement the tasks to get benefits.
The Bottom Line
31 Days to Build A Better Blog is still my ebook of choice for bloggers, whether novice or intermediate. Even though I've been blogging since 2008, I'm going through it myself to improve on of my blogs.
Click here to order 31 Days to Build A Better Blog, 2012 Edition*
Do you own 31 Days to Build A Better Blog? If so, how are you liking it so far?

* Affiliate Link – As an affiliate for Darren Rowse, I will earn a commission if you purchase 31 Days to Build A Better Blog through my links in this post. However, I only recommend products I truly believe it. Furthermore, I purchased my own copy of the ebook (both versions). You should still use your due diligence before purchasing anything, online or offline.