A few months ago, I had a falling out with online video.
It happened very slowly and gradually, almost imperceptibly. Until one day, I looked at my YouTube channels and realized I hadn't uploaded anything in a pretty long time.
Yes, me, the one who gives away a free report on video marketing.
But it did happen. I stopped posting online videos for a while.
What's Wrong With Video Marketing And Vlogging?
It began when a few people, here and there, would respond to my video links like this: "Oh no, a video? I don't have patience to watch videos."
And then I realized it was taking me a lot of time to make these videos. I'd shoot them for maybe 10 minutes max, but then I'd have to watermark them, and make minor edits. Rendering the video takes maybe 30 minutes.
And then I'd have to upload it to YouTube. If YouTube is being cranky, uploading and processing can take anywhere from a couple of minutes to a couple of hours.
Then I'd write a brief blog post about the video and embed the video.
On the other hand, publishing a pure text blog post takes 30 minutes — max.
To top it all off, I noticed very few of my clients were interested in video marketing, themselves.
But something happened that made me take a second look at video marketing.
Change Of Heart
A prospect — who fits my Ideal Client profile — contacted me asking for a proposal. How did she find me? Through one of my YouTube videos.
She says she liked how I explained things simply and clearly and so, without ever having talked to me previously, right then and there she decided she wanted to hire me.
So now I'm giving YouTube marketing another chance.
But I'll be doing things a little differently:
I'll be streamlining my YouTube marketing and video blogging process, incorporating what I learned from this guide to business blogging.
I'll pay more attention to keyword research, which I was too lazy to do previously (I'm lazy about SEO, period).
I'm going to be more strategic about how I use video. Previously, I was doing it more for fun than anything else. But now that I appreciate the potential of YouTube marketing, I'm going to use it more intentionally as a traffic-getting tool.
YouTube Success Stories
There's no doubt YouTube marketing can attract a targeted audience, help you build rapport with them, and shorten or speed up the sales process.
I've seen many of my favorite YouTube'rs rise to the top through their videos, even those that are crudely made.
There's Michelle Phan, whom I discovered when I wanted to learn how to use a hair straightener to curl hair, and how to apply eye shadow on my teenage daughter's almond-shaped eyes. She's now a spokesperson for Lancome.
There's Lauren Luke. She shot makeup video tutorials with her dog snoring in the background. Today she has her own makeup line and has published a book about makeup.
And what about Charice Pempengco, who was discovered by Ellen and Oprah through her YouTube videos?
By the way, I recently met one of the YouTube celebrities I follow, Mike Tompkins, who has appeared on Ellen and The Today Show: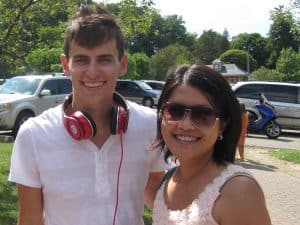 Now I don't have ambitions of being the next Charice, Michelle, Lauren or Mike. But if YouTube can help me get found by more people who are my ideal clients and customers, then I'm going to be there.
If like me, you want to have a serious YouTube marketing strategy, I invite you to:
First, download my free special report on video marketing.
Second, check out this YouTube marketing program.* I'm going through the program right now and will be posting more about my thoughts on the content in the following weeks.
Let Me Know
How are you currently using YouTube? What results have you gotten from it? Tell me about it by posting a note below.

PS: Mike Tompkins turned out to be pretty shy in person. Which goes to show, you don't have to be outgoing to be effective on video. What a relief, eh? 😀
* Affiliate Link. If you purchase the program through this link, I will receive a commission. However, I only ever recommend products/programs I believe in. In fact, I've purchased this program myself. If I ever find anything about it that would give me reservations about it, I'll let you know.