Have you seen the TV ad that says more photos are now taken with an iPhone than a digital camera?
It's true in the case of video, too.
In fact, in my last two vacations, I didn't even bother to bring my digital cameras anymore. I knew I could shoot all the photos and videos I wanted with my iPhone.
If you already own an iPhone and want to get started with or do more video marketing, then you already have the most important tool you need.
A client of mine attended a big social media conference and recorded video interviews armed only with her iPhone.
So no more excuses. Shoot and publish more online videos now, with your iPhone.
But for better results, you need a few more accessories. Don't worry, they're affordable, as you will see below:
Lapel Microphone
Clear audio is even more important than clear images in video. Hard to believe, but it's true! So if you're going to record in a noisy environment, such as in a large gathering or outdoors where it's windy, then you'll probably need an external microphone to get better audio than a naked iPhone would give you.
Some recommended microphones to use with your iPhone:
Audio-Technica ATR-3350 Lavalier Omnidirectional Condenser Microphone
Good feedback overall, but does require a TRS to TRRS adapter. Also quite inexpensive.
Rode Smartlav Lavalier Microphone for iPhone and Smartphones
More expensive than the AT, but it doesn't require an adapter; it was built specifically for smartphones.
Edutige EIM-001 iMicrophone Voice Recorder and Smartline (ESL-001) Extension Cable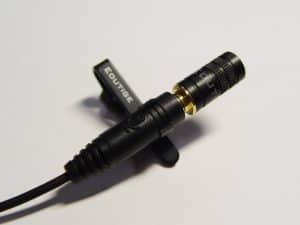 A mid-priced option that gives you the ability to use the Edutige iMicrophone by itself for voice recording. Don't forget to buy the Smartline extension cable so you can use the iMicrophone as a lapel mic!
Stabilizer
It's awkward to take "selfie" videos, much less hold the iPhone in front of your face while you're interviewing somebody else. The result is a very shaky and ill-composed video. You can solve this problem with any of these items:
iStabilizer ISTMP01 Smartphone Monopod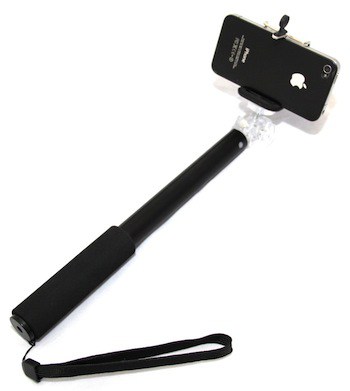 This monopod fits most smartphones, not just the iPhone. You can use it to hold the iPhone steady when shooting a subject in front of you. Alternatively, it acts like an extension of your arm when recording yourself or you with another person. It's lightweight, so you won't get tired right away. The camera mount is removable and allows you to mount your iPhone onto any standard tripod. And for this price, it's a no-brainer.
Tripod
If you'd rather go hands-free, then a tripod is a better fit for you. There are so many available out there; I don't have a specific recommendation. In fact, you may already have one. If so, all you need is an adapter so you can mount your iPhone onto the tripod.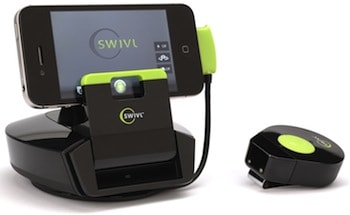 Of all the items on this list, this is the one I'm most excited about (it's on my birthday wishlist and I cannot wait to own it!). It's an iPhone stand that comes with its own wireless mic. The camera knows where you are and swivels left-to-right and tilts up or down to follow you if you move around. You can also control the iPhone remotely. It's the priciest item on this list, but it also pretty much replaces everything else.
With good natural lighting, the equipment listed above are really all you need to shoot video with your iPhone.
How do you take photos and videos on your iPhone? What tools do you use? Is there anything I should add to this list?

PS: If you want to do online video marketing but don't know how to start, then click here to request my complimentary report, "Video Marketing for the Clueless."
PPS: The links to the products mentioned above are affiliate links. If you purchase through them, I will earn a commission from Amazon.com